Light mode
eVTOLs: are they the future of air transport?
4 September 2020
Could we be living in a world with flying cars in the next few years?
Brand new mobility solution concepts are showing that the next generation of vehicles could see the aerospace and automotive industries clash. Helicopter manufacturers, as well as companies that make cars and planes, are working together and investing together in the new age of transport.
One of the most exciting developments over the past couple of years is the concept of regional air transport. Think flying cars, or, an entirely new concept: electronic vertical take-off and landing vehicles – eVTOLs.
Congestion calls for a new mobility solution
Citizens in the world's biggest cities are used to spending endless hours sat in traffic. The average Los Angeles driver spends 65 hours sitting in traffic every year. In London, drivers spend 194 hours (more than week) sat stationary every year.
This is not environmentally friendly, or a good use of drivers' time. To clean up the environment, cities are now permitting electric bicycles (that can be unlocked with an app) to be stored and used in public, by the public. This is fine for completing the last mile of your journey, but it still does not eliminate the use of cars for more regional journeys. And that's where regional air travel could transform everything.
Even in the steadfast aviation industry, the pressure to find a way to make air travel more affordable, convenient and environmentally-friendly has been the source of huge challenge. And this is exactly what eVTOLs present: a Jetson's style mode of transport that could be in cities sooner than you would expect.
Introducing the eVTOL
It's fair to say the transportation industry is undergoing a reinvention. Superjumbo jets are being put into retirement, Tesla leads the automotive market and the governments are introducing new measures to get companies to reduce their carbon footprint.
Regional air mobility could be the next disruptive trend in transport. VTOL aircraft have been around for decades, in the form of helicopters and jets, and they were even depicted in Leonardo Da Vinci's sketches. However, the once impossible reality of electrifying these vehicles is no longer.
Electrification is happening all over the world. Industries are seeking to switch away from depleting fossil fuel reserves to renewable energy sources, which can be transported and stored in the form of electricity.
Helicopters, though, are not hugely energy efficient. They burn a lot of fuel compared with a regular aircraft. Yet for urban transport, aircraft that can vertically ascend and descend make much more sense, enabling regional mobility.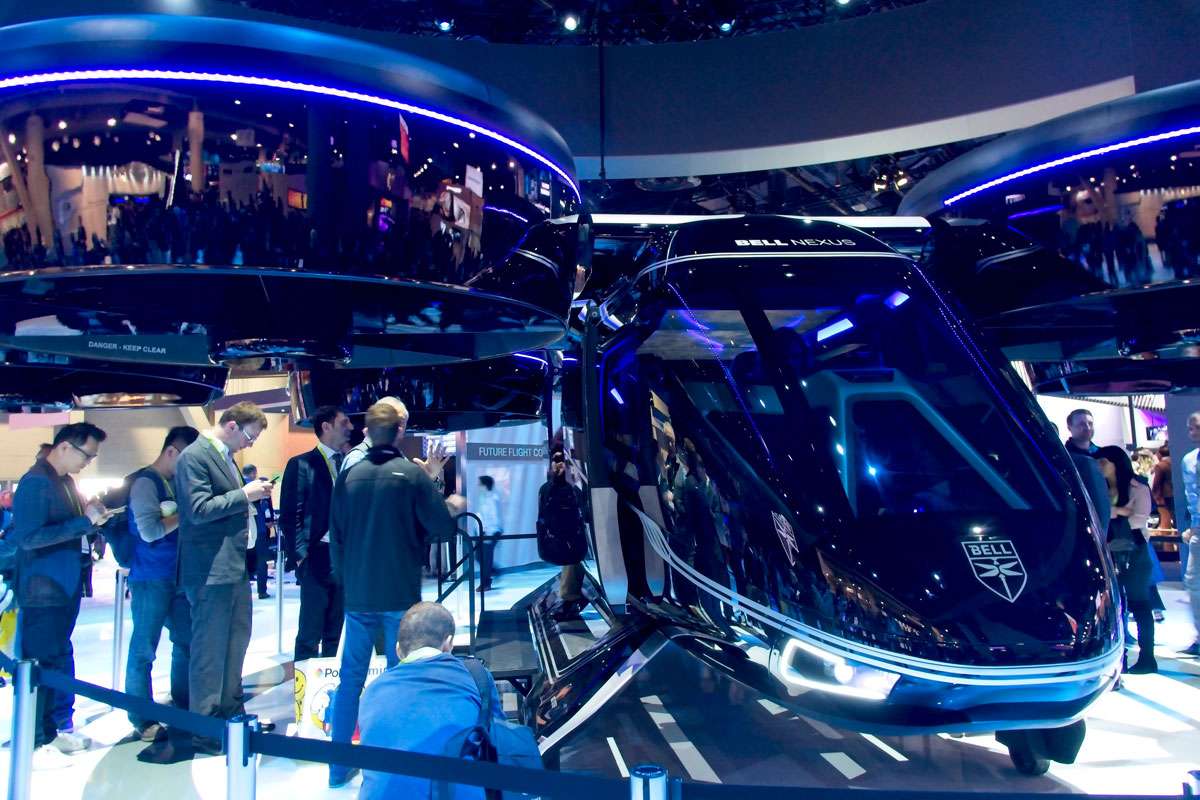 Regional air mobility: the benefits
Reducing road traffic congestion. Elon Musk's tunnel boring company, The Boring Company, has trialled an underground loop transportation system. Rather than digging underground, regional air mobility leverages the unlimited, easily accessible space above buildings.
Low (or even zero) emissions. For short-range trips, battery-electric power is perfectly suited and it doesn't create tailpipe emissions.
Potentially safer.
Better acoustic properties. No single, large swirling rotor or screeching wheels on runways or roads.
Economies of scale. Shorter journeys will be made more affordable with scale. Scale effects enable a reduction in the unit cost, meaning it can be made much more affordable than other forms of air travel.
Speed and reduced journey times. Prototype eVTOLs can travel 150 miles on a single charge at 150mph.
What's preventing their launch?
Vertical take-off and landing technologies have been widely available for many years. However, many of these technologies have featured in military-grade applications and not received much adoption in consumer aircraft – other than in helicopters, of course.
At CES 2019, Bell debuted the Bell Nexus4EX (pictured above) – a new take on the eVTOL offering. It features six rotors in a traditional drone frame, with a fixed wing design crafted to generate more lift from these rotors.
In a discussion from the show floor, Bell's head of business development cited the challenge of making the eVTOL affordable to manufacture. The hopes are that by the mid-2020s, there will be further advances in manufacturing technologies to make it more affordable. However, there are a number of other factors that need to be considered:
Reducing weight, thereby reducing emissions and improving efficiency.
Maximising payload, both for cargo and passengers.
Meeting regulatory requirements for aircraft.
Acoustics and noise pollution in cities.
Innovative materials for eVTOLs and the future of mobility
While composites and additive manufacturing techniques will prove vital in the creation of eVTOLs, there are other fast-maturing technologies that could provide more value. Helicopters, for example, use extremely lightweight alloys to boost their performance, without hindering their longevity or reliability.
eVTOLs will need to leverage these advanced technologies to speed up the time to market and reduce the cost of manufacturing for this entirely new category of aircraft.
Magnesium: replacing plastics in high-power applications
Materials are fundamentally important to the design of eVTOLs. They need to be light, yet offer high performance to ensure eVTOLs can operate efficiently.
Magnesium alloys are being used to replace plastics in many electronics applications like these. Magnesium is just as light, but are much stronger and more durable. They also offer better performance in dispersing head and shielding components from EMI. However, magnesium's performance becomes all the more impressive once coated by an advanced surface technology.
Plasma electrolytic oxidation (PEO) could offer a way forward
Materials scientists are continually conducting research and development on various applications, with an eye to enhancing the specific performance qualities offered by materials.
Keronite's scientists are world leaders in an advanced surface technology called plasma electrolytic oxidation (PEO). The conversion coating process uniquely improves the performance of light alloys by bolstering them with an ultra-hard ceramic-based coating.
In recent years, Keronite's team have dedicated their research efforts to improving dielectric breakdown strength, a necessity in high-power applications such as electric vehicles and eVTOLs. The PEO technique is uniquely tailorable, with Keronite's scientists having refined the science over the course of two decades. These breakthroughs have revealed the promising potential of PEO-coated magnesium alloys with ultra high dielectric breakdown strength for these sorts of applications.