Light mode

In November, CWST acquired Keronite, which is now a part of CWST's Engineered Coatings business.
A New Era of Wear Resistant Coatings on Cast Aluminium
21 March 2023
In 21st century manufacturing, the importance of weight when considering the design of new products is ever increasing. Correspondingly, the interest in light alloy solutions has never been higher, with the most ubiquitous being aluminium.
In this new manufacturing environment, material cost and processing time are of fundamental importance to meet the challenges of high-volume production combined with rapid throughput of both new and legacy components.
Wrought aluminium products compose of ~85% of the market for aluminium production, but as the complexity of components rises so does the cost of subtractive manufacturing. Cast aluminium offers a high rate of production whilst significantly reducing the cost per kilogram relative to a wrought solution.
Manufacturers interested in the light weighting benefits of aluminium, without the costly and complex machining associated with wrought, are already turning to cast and additively processed aluminium for numerous applications such as automotive brake discs, EV and ICE powertrain components, subsea and aerospace functions etc.
To further the potential of cast and additively manufactured aluminium, Keronite has been pushing the limits of their proprietary plasma-electrolytic oxidation (PEO) technology in order to provide hard-wearing, corrosion resistant coatings on the historically challenging cast aluminium alloys
Challenges of cast aluminium coatings
Conversion surface treatments are highly effective on Al, Ti and Mg alloys due to formation of a stable passivation layer. Cast aluminium typically contains 6-13% silicon, which contains intermetallics that are known to disrupt the passivation layer. This results in large voids and structural defects within a produced coating, inhibiting wear and corrosion performance: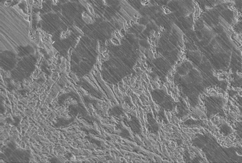 For this reason, producing hard wearing coatings on cast aluminium substrates has historically been a challenge for conventional surface treatment technologies such as anodising, and to a lesser extent PEO. Materials engineers at Keronite have recently made major breakthroughs in the coating of cast Al components achieving several material properties that rival our highest performing wrought aluminium solutions.
PEO and cast aluminium coating
Keronite's new cast Al coatings utilise a novel, multi-stage process designated 'Chimera'. This process employs proprietary, high-energy regimes combined with safe, environmentally friendly electrolytes to rapidly deposit a hard aluminium oxide layer onto the cast aluminium component, overcoming the effect of silicon intermetallics close to the surface of the metallic substrate. The application of a second stage enables densification of the ceramic layer and produces an extremely hard and wear resistant coating: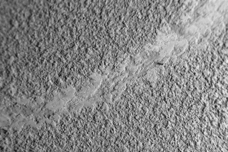 Traditionally, Keronite's P-series coating represents the gold standard for hard, wear resistant coatings on most Al alloys and offers a Vicker's hardness (HV) of approximately 1800. Our new Chimera coating can achieve an HV in excess of 2000 and maintains wear integrity for greater than 25km under high, constant load vs tungsten carbide. Corrosion performance is also strong, confirmed by 500+ hours ASTM B117 salt-fog testing.
Via the staging of processes, Chimera uses less electrical energy, and can be applied in short time frames, representing a fast and cost-effective coating solution for wear surfaces without the use of environmentally unfriendly process chemicals. The future of high-volume aluminium wear surfaces is through cast Al and Keronite is the market leader for high performance coating solutions on cast Al.
To find out more about how Keronite's advanced materials science can provide unique surface properties for your components, contact a member of our team today. To discover the specifics surrounding PEO and how it can benefit your designs, download our white paper below.